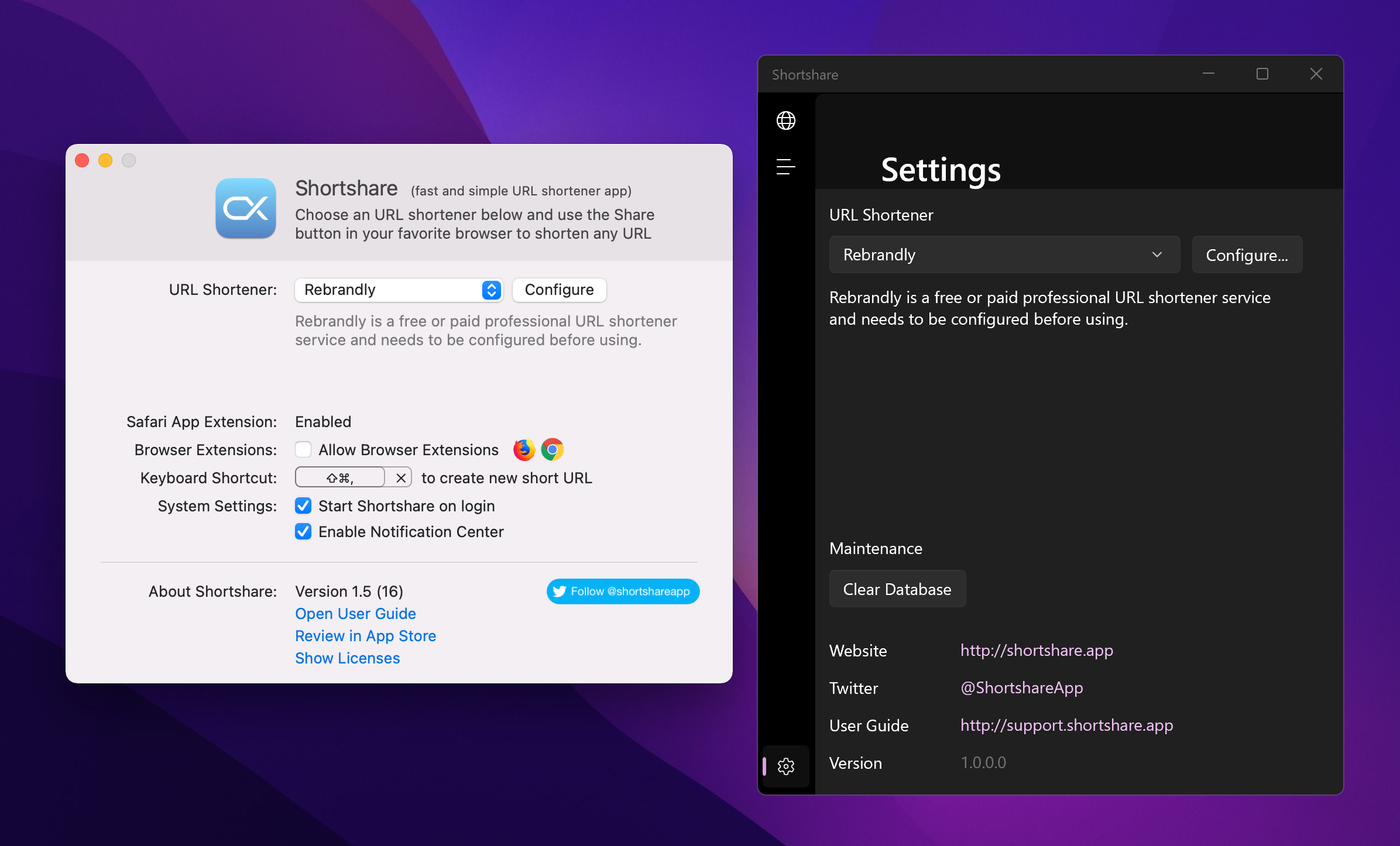 Fast and simple URL shortener
Shortshare is a utility application for URL shortener services. It supports 13 established URL shortener services (Bitly, Rebrandly, Shortio, Tinyurl, OpenMyLink, Kutt, Is.gd, Hive, Url.rw, Kurze Links, Linko, dsh.re) as well as custom APIs and self-hosted solutions like YOURLS. With a Safari App Extension and a Share Extension on macOS, it integrates natively into your workflows. On Windows, you can use the Share menu to send a URL to the app to shorten it.
Shortshare is also available on iOS and offers the same features as on the Mac. The link history automatically synchronises across macOS and iOS devices via iCloud.
Shortshare has been featured as Standout Safari Extension and Great New App by Apple.
Features
The main feature of the app is URL shortening. It can be done with the menu bar icon, a keyboard shortcut, a button-click in Safari with the Safari App Extension or a Share Extension from any other browser on your Mac, and with the Share menu on Windows. It supports custom URL keywords (if supported by the URL shortener), so you can create links like e.g. bit.ly/your-short-url.
Download
Shortshare is available in the Mac App Store for macOS, the App Store for iOS and the Microsoft Store for Windows.
Browser Extensions
Shortshare comes with a native Safari App Extension on macOS. When enabled, it adds a button to the Safari menu bar to quickly shorten the URL of the current tab. For Chrome and Firefox on macOS, the extensions can be installed from the Chrome Web Store and Firefox Add-On Directory.


---
Support
If you need help with setting up your URL shortener, check out the knowledge base for more information.